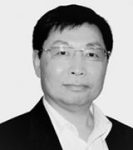 ZhengHong(George)Zhu
Professor and Chair, Department of Mechanical Engineering, York University,Canada
Space Systems (2018-)
Dr. Zhu received his BEng, MASc, PhD degrees from Shanghai Jiao Tong University in 1983, 1986, 1989 respectively. He also received MASc degree in 1998 from University of Waterloo and PhD degree in 2004 from University of Toronto. He is currently the Tier I York Research Chair in Space Technology at York University. He has been conducting innovative research in astrodynamics, dynamics and control of spacecraft by combining fundamental engineering principles with application for sustainable use of space for human society. His research results in over 260 papers in peer reviewed journals and conference proceedings. He has served for many professional societies including CSME, PEO, ASME, NASA, AIAA, and IEEE. Dr. Zhu is the Fellow of Engineering Institute of Canada, Canadian Society for Mechanical Engineering (CSME), and American Society of Mechanical Engineers (ASME). He is also the Associate Fellow of American Institute of Aeronautics and Astronautics (AIAA), and senior member of IEEE.