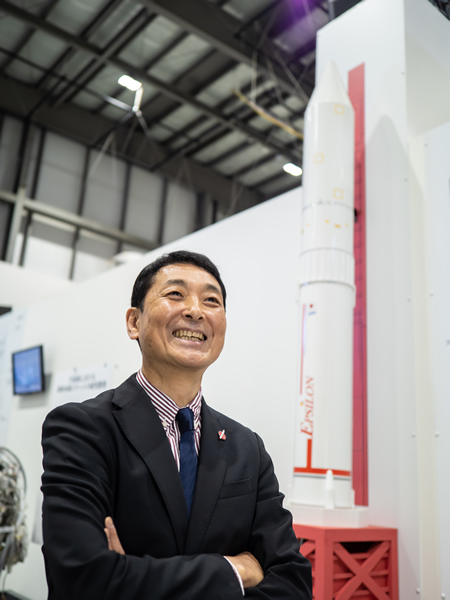 ~JSASS as a foundation for challenge
On the occasion of assuming the JSASS of President for the 55th term, I would like to extend my warmest greetings to all members.
Since I became a student member of JSASS, I have been mainly involved in the organizing committees at ISTS and the Space Sciences and Technology Conference. I have learned many important things as a researcher through my interactions with people in the field. The most important lesson that I learned is how we can work together in a collaborative manner. In this sense, the first thing I would like to say is that since the activities of the association consist of volunteers, we would like everyone to enjoy themselves and work together in a lively and free-spirited manner. I would like to express my deep respect to the members of the Executive Committee for the conferences and other events, as well as to those who works hard every day. I will do my utmost to ensure that all members and management can work together comfortably.
The April Annual General Meeting and Annual Convention were held at the National Museum of Emerging Science and Innovation (Miraikan) in person for the first time in three years. Gathering together in the venue reminded me once again that this seemingly ordinary activity has the human touch that is simply irreplaceable. During the student awards ceremony at the reception, ex-president Prof. Suzuki handed the certificate to former president Prof. Rinoie on behalf of his student. I believe that the indescribable sense of warmth of this scene cannot be experienced remotely.
Now is the time to change the significance and value of academic societies in all academic fields. At JSASS, we intend to enrich the contents and make it an academic society suitable for the new era. Our heart is to make JSASS a foundation for our members to take on great challenges.
For that reason, JSASS places great importance on increasing the size of the community by inviting new groups and companies to join us and to share our vision. We will continue to deepen our ties with our existing colleagues, and take on big challenges by making more and more new friends. Our goal is to expand the aerospace field and to enliven not only the aerospace industry but also the Japanese industry as a whole. Specifically, the promotion of cross-sectional activities is a priority. One of the most important aspects is the fusion of aeronautics and space. Fortunately, attractive themes such as hydrogen airplanes and flying cars have emerged, and good cooperation between aeronautics and space has begun. Another priority is to strengthen cooperation between academia and industry. The Space Business Co-Creation Committee is promoting the establishment of co-creation relationships with new colleagues, such as start-up companies and private organizations. In space transportation, we organized a special session in the annual convention on the theme of academia's contribution to private sector activities, and deepened discussions with our members. Furthermore, JSASS promotes collaboration with other academic societies and associations. Last year, we signed a cooperation agreement with JRS (Japanese Rocketry Society) and have just formed a joint task force to study issues related to transportation systems.
As another dimension to increase the size of the community, we will soon launch a junior membership program. This is an effort to build a win-win relationship between junior members and JSASS, targeting young people between the ages of 16 and 20 for the time being. We expect that we can learn a lot from the young people as well as we can do for the younger generation. On the other hand, we established the Aerospace Technology Heritage Program last year and certify the First Technical Heritage at the members' meeting after the annual general meeting. The first purpose of this program is to demonstrate to the world the high level of technology in our country. As well, we would like to develop this system so that it will also lead to new technological developments that will further advance aerospace technology.
JSASS has developed an aerospace vision as a foundation for taking on the challenge and is in the process of revising it. Therefore, it is important to deepen specific studies to bring the vision to life. In this sense, it is significant that at the end of last year we were able to propose three themes (aeronautics, space, and space transportation) as future sciences promotion plans in response to a request from the Science Council of Japan. We also organized a panel as a special session at the annual meeting to deepen the discussion on the three themes with our members. It is very typical of JSASS that space transportation has been singled out as a special feature. Future space transportation will require cooperation with aviation, and this is a symbol of the fusion of aviation and space. In addition, the purpose of this call for proposals strongly called for collaboration with different fields, and we were able to establish new collaborative relationships not only with surrounding academic societies and associations, but also with academic fields belonging to the social sciences and humanities. This was a good initiative that matched well with the basic spirit of exchanges with different fields that JSASS promotes through cross-sectoral collaboration and development departments.
While there were positive topics such as the progress of the international space exploration and the selection of astronauts aiming for the moon in the last fiscal year, there were events such as the failure of Epsilon and H3 and the cancellation of MSJ development. Nevertheless, in between successes and failures, Science and Technology continue to advance. It can be said that the true value of the aerospace community is to continue to take on challenges without giving in to difficulties. HAKUTO-R setback is so minuscule compared to what has been achieved by the mission. It shows that when we work hard and when we collaborate with partners, we'll achieve greatness together. Every technical challenge and every difficulty only serves as a motivator for the leap forward. We will continue to support the challenges of our members and aim to be a JSASS that drives the development of science and technology. Let's work together and I know I can count on your support!
(2033/2028)