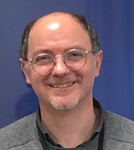 Dr. Husni R. Idris
Research Engineer, Ames Research Center, NASA, USA
Air Traffic Management (2020-)
Dr. Idris holds master of science degrees in mechanical engineering and in operations research, and a Ph.D. in human factors and automation from the Massachusetts Institute of Technology (MIT), in Cambridge MA, USA. His 25-year career spans contributions as a researcher in academia, industry, and government, from the Artificial Intelligence Lab and the International Center of Air Transportation at MIT, to senior air traffic researcher at Engility Corporation, to the Aviation Systems Division at NASA Ames Research Center. At NASA, he currently leads a team researching Collective Autonomous Mobility under NASA's Transformative Tools and Technologies Project, to advance autonomy in air traffic management, and he is a member of the Agency's Autonomous Systems Capability Leadership Team. He has published more than 40 technical articles in the peer-reviewed and conference literature. Dr. Idris is an AIAA associate fellow and an Associate Editor of the AIAA Journal of Air Transportation.